PRO-NOX Nitrous Oxide
Breeze through pain-free, anxiety free cosmetic treatments with ProNox.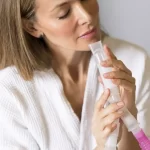 We are pleased to introduce ProNox™ in our practice, a patient controlled, inhaled analgesia for in-office use. We want our patients to achieve their cosmetic goals worry-free. Patients say that it has made all the difference in moving forward with many cosmetic procedures.
The use of nitrous oxide in Medical, Cosmetic & Laser Dermatologic procedures is becoming more common. Our goal is to provide each patient with a pain-free experience and to work with their varied anxiety levels. While we have excellent topical numbing options for pain control, nitrous oxide can help calm the patient who is nervous or anxious and also help with pain relief.
Ultherapy® Lift and Tighten
Ultherapy® sets the bar for nonsurgical skin "LIFTING & SKIN TIGHTENING"! Ultherapy® is the only FDA - cleared non-invasive treatment for "lifting" the skin on the neck, chin and brow. Now it is also the only non-invasive treatment specifically FDA - cleared to improve lines and wrinkles on the décolletage.
Crank The Collagen
WHO SAYS ULTHERAPY® BOOSTS YOUR COLLAGEN?
OH RIGHT, SCIENCE. Ultherapy® is a safe, non-surgical "ultrasound" treatment. As we age, collagen breaks down, resulting in loss of skin strength and elasticity. Through time-tested ultrasound technology, Ultherapy® helps produce new collagen growth with "no downtime" by using the body's own regenerative response to gently and gradually over time "lift" skin above the eyebrow, under the chin and on the neck, and smoothes lines and wrinkles on the décolletage. The result yields firmer younger looking skin, from brow to chest.
What is unique about Ultherapy®?
Ultherapy® is the only cosmetic procedure to use ultrasound imaging, which allows practitioners to see the layers of tissue targeted during the treatment to ensure the energy is deposited where it will be most beneficial.
Can Ultherapy® replace a face lift?
Ultherapy® treats the deep foundational layer addressed in cosmetic surgery, but won't duplicate the results of a facelift. Ultherapy® is a great alternative especially for those not ready for surgery or for patients looking to extend the effects of cosmetic surgery.
How does Ultherapy® different from laser treatments?
Ultherapy® uses sound energy - tried-and-true ultrasound - which has unique properties that allow it to bypass the surface of the skin to treat depths not matched by any other non-invasive cosmetic device. Ultherapy ultrasound stimulates collagen production in the skin's foundation, resulting in a clinically significant lift of tissue over 2-3 months.
Lasers rely on light energy, which cannot reach deeper skin layers at an optimal temperature, so laser treatments typically only treat superficial skin and are not FDA-cleared to lift skin.
Since the two technologies often treat different types of skin issues, they're actually very compatible, like a hand in glove.
How does Ultherapy® stimulate the creation of collagen?
Ultherapy® deposits focused ultrasound energy deep beneath the skin at the optimal temperature for collagen regeneration. The treatment jumpstarts a natural process, known as neocollagenesis, to produce fresh, new collagen. Ultherapy® doesn't involve any creams, fillers or toxins; it just relies on your body's own collagen-building process for natural, noticeable results.
How long does an Ultherapy® treatment take?
The length of the treatment will depend on the area being treated and your individual treatment plan. A face and neck procedure typically takes 60-90 minutes, while a chest treatment takes approximately 30 minutes.
Will I need to take time off?
With Ultherapy®, there is no downtime. After your procedure, you can resume your normal activities immediately, without having to follow any special post-treatment measures.
What does the Ultherapy® treatment feel like?
As the ultrasound energy is delivered, you will feel tiny amounts of energy being deposited to precise depths, indicating that the collagen-building process has been initiated. Comfort levels vary from person to person, but the sensation only lasts while the ultrasound energy is being delivered.
When will I see results? How long do they last?
After your Ultherapy® Treatment, you may see some initial effect, but the ultimate results will take place over 2-3 months, as your body naturally regenerates collagen. Since the procedure stimulates your own collagen production, how long the results last really depends on you. The treatment produces new collagen on the inside, but your natural aging process will dictate how long that translates into visible results on the outside.
How many Ultherapy® treatments will I need?
Most patients only need one treatment. However, based on the degree of skin laxity, the biological response to ultrasound energy and the individual's collagen-building process, some patients benefit from additional treatments. Because skin continues to age, future touch-up treatments can help patients keep pace with the body's natural aging process.
Are there any side effects?
The skin might appear flushed at first, but the redness should disappear within a few hours. Some patients experience slight swelling, tingling or tenderness to the touch, but these are temporary in nature. Other, less common post-procedural effects may include temporary bruising or numbness on small areas of skin. As with any medical procedure, there is the possibility for other rare effects, which Dr. Robinson will review with you.
Is Ultherapy® safe?
The FDA-cleared Ultherapy® procedure has been used safely in over 250,000 treatments worldwide and has been used safely in the medical field for more than 50 years. In addition, every Ultherapy® practitioner receives extensive procedural training.
How much does an Ultherapy® procedure cost?
The cost of an Ultherapy® treatment can range depending upon the area being treated. To get the most accurate quote, consult with Dr. Robinson.
Who is a good candidate for Ultherapy?
A good Ultherapy® candidate has mild to moderate skin laxity where the skin begins to feel and look less firm. Examples include a lowered eyebrow line, loose skin on the neck, sagging under the chin, and lines or wrinkles on the chest. The best way to find out if you're an Ultherapy candidate is to consult with Dr. Robinson. Our Cosmetic Consultation Reimbursement policy is offered to all our patients. Come discuss your needs and goals with Dr. Robinson and the office visit cost will be applied to future costs for the discussed procedure. Procedure must be completed within 30 days of your consult visit.
Cosmetic Consultation Reimbursement Policy
Schedule an office visit to discuss your concerns and skincare goals with Dr. Robinson and the office visit cost will be applied to the future cost for the "consulted procedure". The "consulted procedure" must be completed within 30 days of your consult visit.
What could Ultherapy® look like on me?
Do you ever wish you could try on a treatment before having it done? Now you can with the results simulator tool you will see what your Ultherapy® procedure treatment results could look like. Click here: https://www.ultherapy.com/your-own-ultherapy
Before & after images: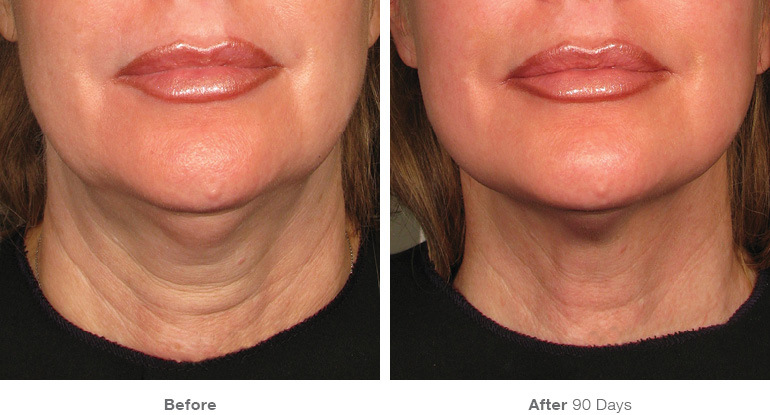 ​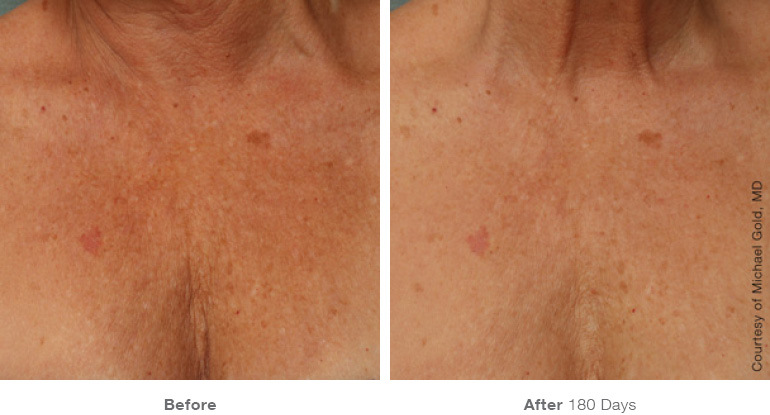 ​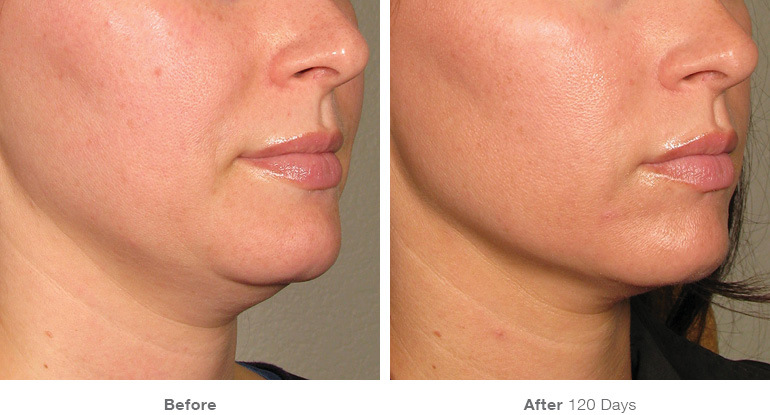 ​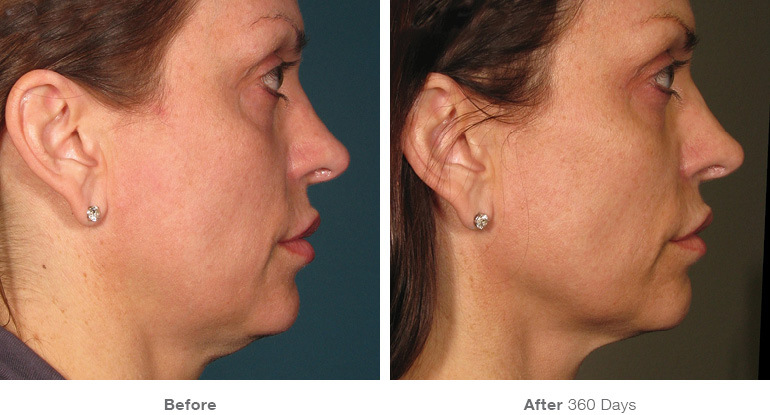 ​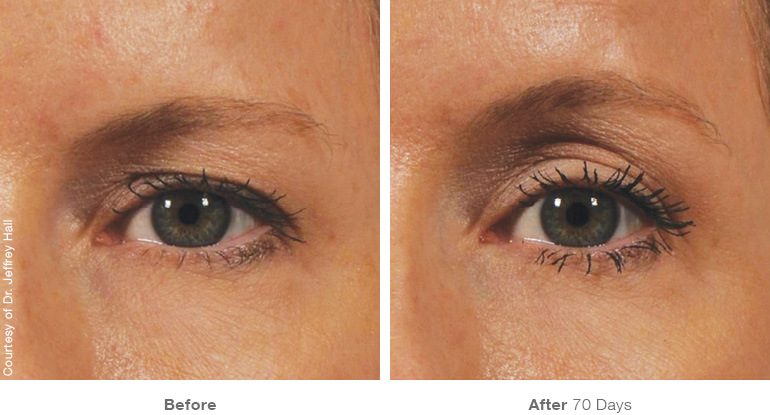 ​
TempSure Envi | Skin Tightening
Minimize Wrinkles, Fines Lines, Tighten Skin and Reduce the Appearance of Cellulite - Beautiful skin / Beautifully Simple
With TempSure Envi, great-looking skin doesn't have to be complicated. TempSure is a radio frequency FULL body skin tightening system designed for both the face and body that minimizes facial fine lines and wrinkles, tightens skin, improving the appearance of cellulite by non-invasively heating up the deep layers of the skin. Applied with a massage wand, this treatment encourages new collagen formation which leaves skin tighter and minimizes wrinkles, fine lines and dimples. It is safe for all skin types and levels of sun exposure, so it fits beautifully and simply into any beauty maintenance routine, any time of year. A series of treatments is recommended. With the TempSure Envi treatment, there's no surgery, no needles, and no downtime, so you can immediately get back to what you were doing, and look great doing it.
Here's a video about TempSure Envi:
Achieve great looking skin without surgery or downtime.
With TempSure Envi, there is no surgery, no needles, no pain and no downtime.  The patient leaves with immediate lift, tightening and healthy "glow".
TempSure Treatment Areas:
TempSure eye Envi, Erase Crows Feet, Lift Eyelids & Tighten Lax Skin Around the Eyes
Upper Face, Forehead Lines
Lower Face,
Full Face
de'collete' (the V of the chest and between the breasts)
Cellulite on the Body
Abdomen (especially after pregnancy and weight loss)
Any area of the body requiring lifting and tightening
How does it work?
TempSure Envi treatment is a gentle way to revive your skin's natural beauty and reduce the appearance of wrinkles and fine lines. The TempSure Envi massage wand delivers radiofrequency technology to gently heat your skin increasing it's temperature for a defined, therapeutic time, triggering your skin's natural response to create new collagen and elastin. At 7-10 days post-treatment, the rebuilding process begins in the skin. Fibroblasts accumulate to synthesize new collagen and elastin and tissue growth factors are released. This process may continue for up to three months giving you tighter, younger-looking skin.
HydraFacial MD - is a great compliment to TempSure Envi
Hydrate before and after your TempSure Envi
Cosmetic Consultation Reimbursement Policy
Schedule an office visit to discuss your concerns and skincare goals with Dr. Robinson and the office visit cost will be applied to the future cost for the "consulted procedure". The "consulted procedure" must be completed within 30 days of your consult visit.
"Before and After" TempSure Envi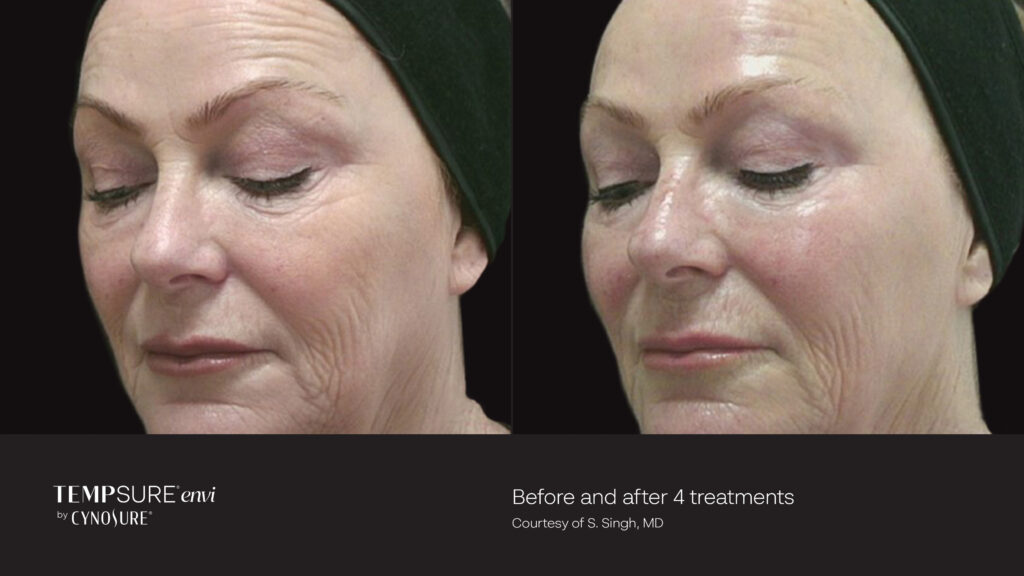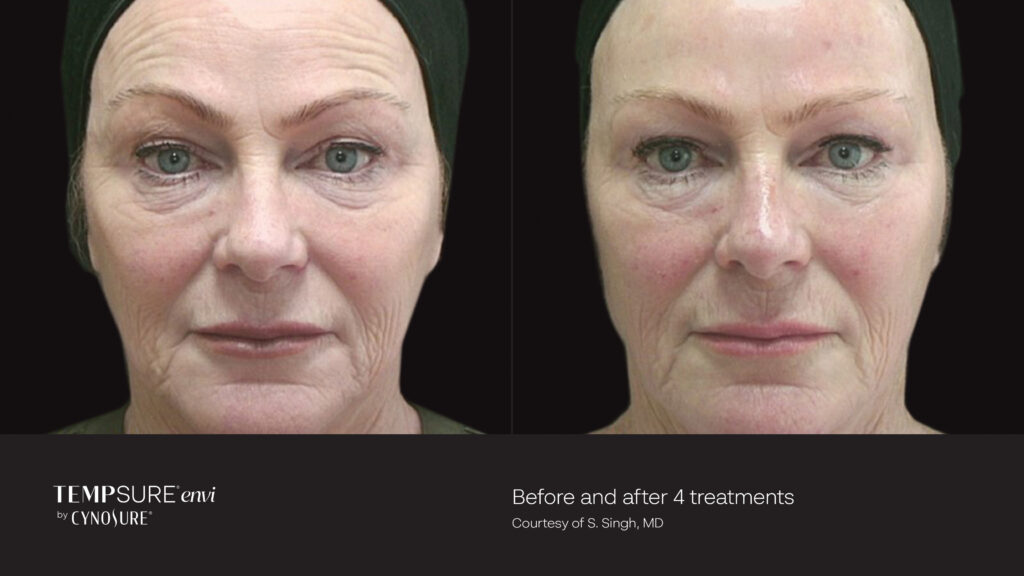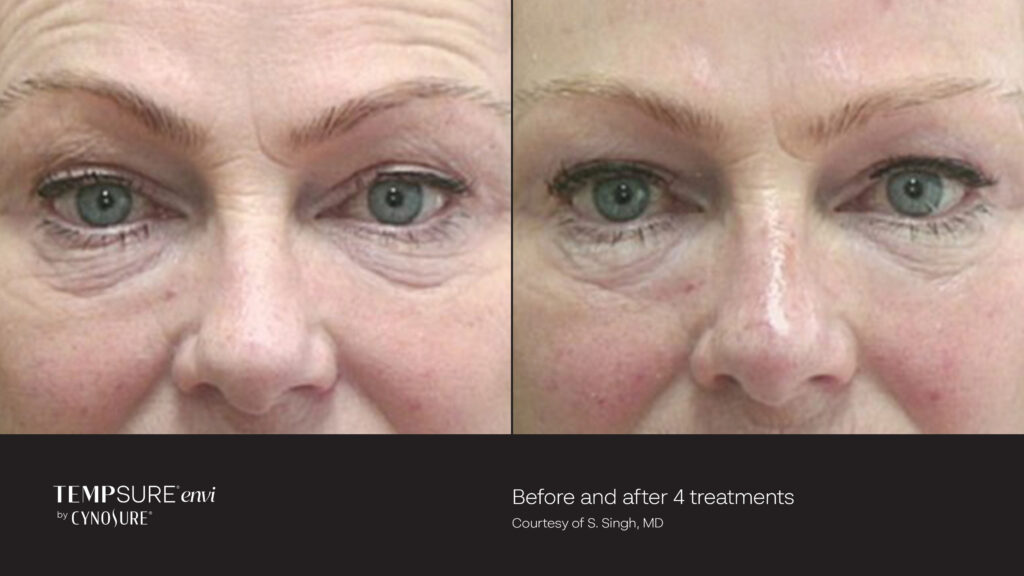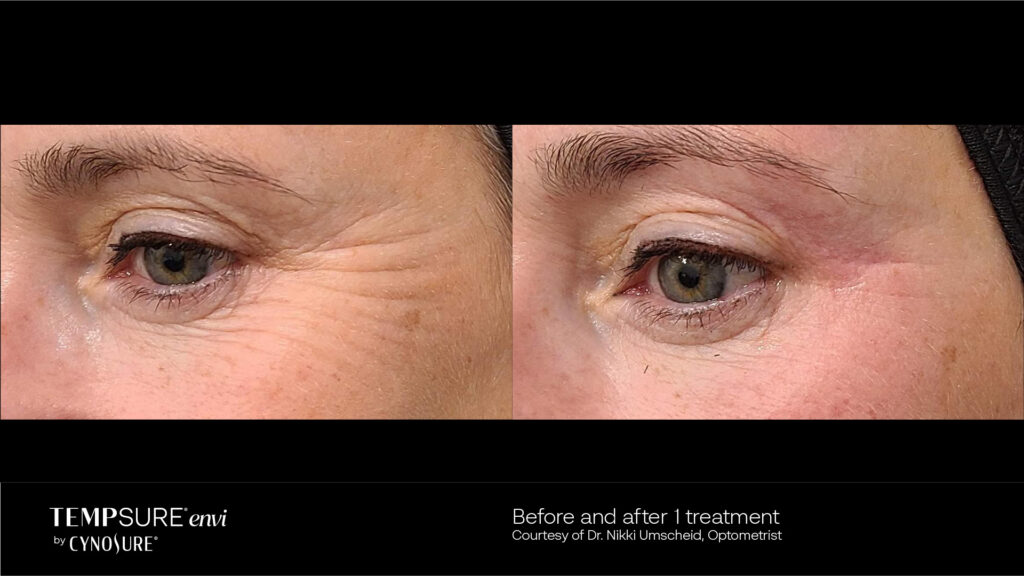 What is a treatment like?
Treatment begins with a warm ultrasound gel applied to the selected skin area. Radiofrequency energy is delivered via a wand which massages and gently heats the skin in relaxing small circular motions. Tissue resistance to RF energy at the dermal and subdermal junction causes an increase in temperature. This temperature is modulated by the TempSure system to safely maintain the skin at appropriate temperature levels. As the skin temperature increases during the procedure, new collagen is created. the new collagen fibers are tight, dense and neatly organized, giving you tighter, younger-looking skin. Once the procedure is complete the skin temperature drops back to normal. TempSure has been designed to provide a comfortable, pain-free and effective treatment every time.
How many treatments are needed?
A series of treatments is recommended, therefore, treatments are typically bundled into packages. Every patient is different and the optimum number of treatments can vary. Dr. Robinson and his staff will develop a plan that is right for your goals.
How long are the treatments?
Treatments last about 30-60 minutes, depending on the area(s) being treated. There is no downtime allowing you to return to your normal activities immediately.
Why TempSure Envi?
TempSure Envi is a simple solution for beautiful skin. It provides a soothing patient experience while delivering beautiful results. Each treatment delivers consistent and controlled heat, giving you an effective, yet comfortable treatment every time.
When will I see results?
Instantly - you will leave with an immediate lift, tightening and "natural glow". Patients describe a "tighter, smoother feeling and reduced pore size". The best part is that collagen will continue to rebuild over time, enhancing your skin's appearance.
Is TempSure right for me?
TempSure Envi is right for those looking to minimize fine lines and lift sagging skin on the face and body. Also, excellent at reducing the appearance of cellulite. Treatments are extremely safe and can be performed on all skin types year round.
Laser Skin Tightening
Laser skin tightening is a nonsurgical, minimally non-invasive cosmetic procedure. It may help reduce signs of aging on the skin. As skin ages, it tends to lose its elasticity and become less tight.
The body areas people most often target using laser skin tightening procedures include the:
face
jawline
neck
stomach
Skin aging is a natural process that occurs as people age. However, it could be accelerated by such factors as sunlight, stress, and chemicals. Skin aging is affected by numerous genetic and environmental factors that can appear as wrinkles, abnormal pigmentation, skin weakness, and telangiectasia.
Laser Features and Skin Aging Treatment
Different types of lasers for skin rejuvenation are ablative lasers, non-ablative lasers, and fractional lasers
Ablative Lasers
These kinds of lasers have been used to treat scars, pigmentations, and rhytides by removing the epidermis and heating dermis. However, ablative lasers reduce time of treatment and cause a more difficult recovery process, these lasers create the most dramatic impressive results. For severe facial wrinkles, pigmentation, and skin challenges, ablative lasers are often the preferred treatment. The most common ablative lasers used for skin rejuvenation is the Nd:YAG.
Non-ablative Lasers
Non-ablative laser resurfacing demonstrates one of the main developments in procedural dermatology over the past decade and has become the treatment of selection for a broad range of aesthetic indications. However, safety concerns related to their use in darker skin types have remained. These lasers are less destructive than ablative lasers and tighten the skin by naturally stimulating collagen production in the dermis; the epidermis is protected through skin cooling. This type of laser is less aggressive than the Ablative laser options.
Fractional Lasers
The Fraxel® DUAL Laser system has the unique advantage of two treatment modes/wave lengths in one laser. This non-surgical laser procedure smooths wrinkles and scars, improves texture , tone, elasticity, color and also minimizes pore size. The Fraxel® DUAL Laser uses patented fractional technology to target sun damaged skin. The laser treats only a fraction of tissue at a time, leaving the surrounding tissue untouched, which promotes rapid healing. This stimulates your body's own natural healing process and stimulates collagen growth & replaces the old and damaged cells with fresh, glowing, healthy skin. The result is more youthful, radiant skin with minimal down time. Any area of the body can be treated: face, chest, neck and hands.
Fraxel DUAL Laser Modes/Wave Lengths:
The 1550 wave length: penetrates deep into the skin layers, specifically targeting concerns such as wrinkles or acne scarring.
The 1927 wave length: effectively targets tone, texture and other more superficial signs of aging
What can I expect during the treatment?
Laser skin tightening is performed in the office. You will wear safety eyewear to protect your eyes. Each laser pulse may be preceded and followed by a short puff of cooling spray. A treatment can take as little as a few minutes to as long as an hour, depending on the area and condition being treated.
Does it hurt?
Patients will have a topical numbing cream applied approximately 30 minutes before their treatment. Some patients may feel a slight discomfort with each laser pulse, sometimes described as the snapping of a rubber band on the skin. Should this discomfort occur, it resolves in several seconds.
How many treatment sessions will I need?
Usually 3 to 5 treatments at monthly intervals.
How do I prepare for the treatment?
If you have a history of cold sores, prophylactic treatment with antiviral therapy (Valtrex, Famvir, or Acyclovir pills) may be started before your laser treatment. The intended treatment area should not be exposed to sunlight or tanning booth light for 14 days prior to treatment.
What can I expect after the treatment?
Your face will feel hot, applying cool compresses will provide comfort. Any redness or swelling should resolve within a few days. During the healing process your skin will originally appear "sunburned" and have a sandpaper feel and then peel 4-7 days after your treatment. By day 7 you will begin to reveal a softer, brighter and improved skin tone. Treating yourself to a HydraFacial MD one- two weeks post Fraxel will help expedite the shedding of old skin and infuse intense hydration. Other benefits of Fraxel laser treatment include: reducing the appearance of acne scaring, treatment of actinic keratosis, reduction of fine lines and wrinkles, smoother, fresher, younger looking skin, improved tone and texture, erase unwanted brown spots, age spots & melasma.
What precautions should I take after the treatment?
After laser treatment, prevent sun exposure and apply sunblock (SPF 30 or greater). Apply generous amounts of moisturizer often to keep skin hydrated. Avoid scrubs or abrasive skin cleansers the first few days after your treatment.
Are there side effects?
Your risks are minimal. Side effects may include redness, swelling, hyperpigmentation, hypopigmentation, blistering and a bruise in the treated area--if they do occur, it does not usually last more than a week. Permanent side effects are rare.
Cosmetic Consultation Reimbursement Policy
Schedule an office visit to discuss your concerns and skincare goals with Dr. Robinson and the office visit cost will be applied to the future cost for the "consulted procedure". The "consulted procedure" must be completed within 30 days of your consult visit.