PRP | Platelet-Rich Plasma Therapy
Platelet Rich Plasma Hair Growth Treatment For Hair Loss
So many of us struggle from natural hair thinning and hair loss. In fact, according to the International Society of Hair Restoration Surgery, approximately 56 million adults in the United States are affected by hair loss. Different conditions can lead to different symptoms of hair loss, ranging from male pattern baldness, which is characterized by hair loss at the temples followed by thinning along the crown, to thinning or loss that can occur in patches throughout the scalp. Hair loss or hair thinning can occur in both men and women and can be a source of self-consciousness or embarrassment and, up until recently, few non-surgical treatments offered total hair restoration.
Recently, Platelet-Rich Plasma (PRP) has become a popular regenerative treatment in the world of dermatology. PRP treatment for hair restoration, improves hair thickness and reduces hair shedding. The treatment takes platelet-rich plasma from the patient's own blood and once isolated, the PRP solution is injected into the area affected by hair loss or hair thinning. The PRP triggers the natural hair growth process and strengthens the hair follicles to promote regrowth and prevent hair loss. The procedure is simple and requires minimal downtime or discomfort, making it an excellent option for patients who are wary of surgical options, such as hair transplants.
Board-certified dermatologist Dr. Bruce Robinson is an expert in PRP treatment and was one of the first dermatologists to incorporate PRP into his private NYC practice. PRP has been a boost to patients with hair loss, delivering improved hair growth and hair thickness with his PRP hair restoration patients. Experienced dermatologist, Dr. Bruce Robinson, has been treating patients in his Upper East Side, New York City office for more than 30 years and is an expert in a range of cosmetic and dermatological procedures. If you're frustrated by thinning hair or hair loss, Dr. Robinson is here to help.
What is Platelet-Rich Plasma?
Therapy for hair loss is a three-step medical treatment in which a person's blood is drawn, processed, and then injected into the scalp. Platelet-rich plasma is a concentration of platelets that is 3x the normal blood value, and contains many growth factors that stimulate hair follicles and can safely be performed up to every month, based on how much hair growth is required. PRP is a great solution for hair loss in both men and women, especially when hair transplant surgery is not an option. PRP injections can stimulate new hair growth in men who suffer from androgenetic alopecia (known as male pattern baldness) and women who suffer from female pattern baldness.
What are the benefits of PRP therapy?
The Platelets in the PRP contain proteins that are needed in order to promote the rate of tissue healing and regeneration within inactive hair follicles. Inside these platelets are a variety of intracellular structures such as glycogen (a form of glucose), lysosomes (which break down the proteins), and alpha granules (which contain clotting and growth factors that get released during the cell repair process). Platelet-rich plasma-derived growth factors can also play a part in stem cell differentiation within the wound healing process of the musculoskeletal system.
Do PRP injections work for hair loss?
In multiple studies through the Journal of Cosmetic Dermatology and Aesthetic Plastic Surgery, patients suffering from hair loss were found to benefit from PRP injections. The PRP hair restoration treatment led to a significant local increase in hair number, extended growth phase, and improved hair thickness. Though the treatment is not yet FDA-approved, there is scientific proof that the treatment is beneficial for hair strength and new hair growth at and around a PRP injection site.
The science behind PRP uses proven benefits of PRP to naturally promote new cellular growth. PRP is directly involved in regenerative healing within the body. PRP growth factors can thus influence hair growth and can in fact restore hair follicles, in turn improving the look and feel of a patient's hair.
How does PRP hair restoration work?
PRP hair rejuvenation treatment involves the injection of platelets into the area of the body in which hair loss is occurring, for example the crown of the head. Platelets are taken from the patients own body via a blood draw that occurs at the start of the appointment. After the blood has been drawn, it is placed in a centrifuge, which is a machine that separates the platelet-rich plasma from the red blood cells. When isolated, the platelet-rich plasma is then injected into the treatment area. The platelets release growth factors, which stimulates the dermal papilla cells that are crucial in the hair growth process. For that reason, a series of PRP injections help to trigger hair regrowth to restore lost hair.
How many PRP treatments are needed?
Though of course the number of PRP treatments varies depending on the hair condition and aesthetic goals of the individual patient, a typical patient will do three sessions of PRP therapy. Further treatments will be evaluated at the end of the fourth month (after the third PRP treatment).The sessions are typically spaced 4-6 weeks apart, and Dr. Robinson personally performs all consultations and injections. PRP treatments can also be used in tandem with hair transplantation to help accelerate hair growth. At your initial consultation with Dr. Robinson, you will be able to discuss all hair treatment options, including PRP injections. Dr. Robinson will use his expertise to provide the best medical advice, diagnosis, and treatment available for hair loss.
Is PRP for hair loss covered by insurance?
Unfortunately, as PRP hair restoration is considered a cosmetic procedure, PRP for hair loss is not covered by health insurance. For more information, it's best to contact your insurance company directly to ascertain coverage.
How long to see results from PRP hair loss treatment?
Many patients come into their initial consultation with Dr. Robinson wondering, how fast does PRP work for hair loss? Of course, any results will vary depending on the nature of hair loss and desired results of each patient. However, the majority of patients see initial improved hair thickness and hair growth several weeks after treatment. Optimal results from PRP injections are apparent, on average, about 5-6 months after treatment.
Am I a Candidate for PRP Hair Treatment?
A good candidate for PRP hair restoration is a patient who is showing signs of thinning hair or hair loss. Typically, candidates who have experienced hair loss more recently, or who are dealing with early hair loss, respond best to PRP hair treatment. Those with hair follicles that have been dormant for longer on the scalp are less likely to be improved by PRP therapy. It's good to note that if you are diagnosed with a underlying disorder such as lupus or thyroid disease, you are unlikely to benefit form PRP injections, as these conditions will continue to worsen hair loss over time. Additionally, patients should not take blood thinners during PRP hair restoration treatment, as the procedure will be significantly less effective.
Are you interested in a natural way to grow back your hair?
Call today to schedule an appointment with Dr. Robinson.
Pediatric Dermatology
Dr. Robinson was a pediatric resident before pursuing dermatology. He enjoys seeing pediatric patients and specializes in difficult to diagnose rashes, birthmarks, acne, warts, molluscum and eczema.
Hair & Nail Disorders
Most people know that dermatologists are experts in skin, but did you also know we specialize in hair and nails? Hair and nail disorders can be complex and multifaceted. Our job is to help identify underlying problems that lead to these disorders. From hair loss to nail fungus, we have many more modalities than ever before to treat these diseases.
Skin Cancer Screenings
We recommend annual skin cancer screenings for almost everyone. Essentially all skin cancer can be cured if detected early, and an annual skin cancer screening is the best way to find them at this early stage. Patients with a skin cancer history usually require screening every 3 to 6 months. Skin cancer screenings are truly life saving! Don't be shy—make your appointment today! Contact us today to schedule an appointment.
BOTOX® Cosmetic
Smile, laugh, frown, and make all the facial expression you want and stop worrying about wrinkles
After years of sun, squinting, laughing, frowning, smoking, and worrying, the skin around the eyes and on the forehead will often develop deep lines and wrinkles called "expression lines." A frequent concern is that they often make you look older, tired, or stressed. Until recently, these advanced furrows have been difficult to treat. Now, by utilizing this FDA approved temporary muscle-relaxing agent, you can reduce "permanent expression lines". Botox® is a "neuromodulator," an extremely popular agent used to treat the lines of motion that are accentuated with facial movement and expression. It is one of our favorite procedures to perform because of the extremely high patient satisfaction rate, and a great place to start if you are considering a cosmetic procedure for the first time.
Botox uses:
Wrinkles of the Face
Crow's Feet
Frown and Worry Lines
Drooping Brow – Brow Lift
Bunny Lines of the Nose
Excessive Sweating
What age should you start Botox?
If you want to prevent the earliest fine lines from becoming full-blown wrinkles, preventative Botox can be the solution. Botox is approved for patients who are 18 years and older and most experts agree that patients in their mid to late 20s and early 30s are at a good age for preventative Botox treatment.
What is treatment like?
With a very fine needle, BOTOX is painlessly injected into the specific muscle that is contracting and causing the lines and wrinkles on the face. No anesthetic is required. Treatment is effective, safe, and takes approximately 10 minutes. Immediately following treatment you may resume regular activities.
How long does a BOTOX treatment last?
The effects usually last 3 to 4 months, and fade away gradually. Following several treatments, the results may last 4 to 8 months or longer. BOTOX offers extended relief over the course of long-term treatment.
Are there any possible side effects?
Side effects of BOTOX, if any, are usually mild and temporary. Botulinum toxins contain proteins, which in some circumstances may be naturally safeguarded against by the body?s ability to produce antibodies. If antibodies are formed, the therapy will generate a lesser response. Temporary bruising, mild pain and swelling are sometimes experienced, though these symptoms resolve on their own within 3 to 5 days. In rare cases, there can be a slight drooping of an eyelid or asymmetry of expression. If this should happen return to our office.
Here is a short guide of the do's and don'ts after having Botox.
The do's:
Frown repeatedly for about one hour immediately following the treatment. This will help the treatment to be more effective by increasing the uptake by the targeted muscle groups, then after this time try to avoid extreme facial expressions for the next 12 hours
Keep upright for the first 4 hours
You can gently apply light make-up after treatment but use a light dabbing motion instead of a rubbing or spreading motion
The don'ts :
Do not rub or massage the treated area and avoid make-up if possible.
Avoid sleeping on your face the first night
Do not exercise or partake in any strenuous activity for the next 12 hrs
Avoid excessive alcohol consumption for the next 24hrs
Do not have any beauty treatments on your face e.g. facials, facial massage for 2 weeks- this may cause the injected solution to spread to nearby muscles.
Avoid exposure to strong sunlight, very cold temperatures and saunas for the next 2 weeks
What type of results will I see?
Typically, the effect of BOTOX is visible within 5 -7 days. Maximum benefits are reached between 10 to 14 days. Once the muscle becomes dormant and the skin softens, you will have a more relaxed and youthful appearance. BOTOX treatments are not a substitute for the results achieved with a facelift. The optimum appearance may be achieved with BOTOX therapy in conjunction with a facelift, dermal fillers, laser resurfacing, and skin rejuvenation.
What is BOTOX?
BOTOX is a therapeutic muscle-relaxing agent derived from the bacterium, Clostridium Botulinum. For over a decade ophthalmologists have applied BOTOX for it's original intention, the treatment of blepharospasm. Physicians have utilized BOTOX for years as a cosmetic treatment to correct visible signs of stress and aging.
How does BOTOX work?
The contractions and movements of the facial muscles are controlled by signals from the brain. BOTOX simple prevents the muscle from allowing responses to these messages. As a result, the muscle relaxes and the overlying skin remains unwrinkled and smooth.
Botox for excessive sweating/hyperhidrosis:
Botox injections have been FDA approved to treat excessive sweating. In the skin, Botox selectively turns off the sweat glands resulting in a normal appearance without wetness. Treatment is performed during an outpatient clinic visit and no recuperative time or special care is needed afterward.
Before and After Images:
Hives | Urticaria
Urticaria, also known as hives, are localized, pale, itchy, pink wheals (swellings) that can burn or sting. They may occur singularly or in groups on any part of the skin. They are part of an allergic reaction and are very common. Approximately 10-20 percent of the population will have at least one episode in their lifetime. Most episodes of hives disappear quickly in a few days to a few weeks. Occasionally, a person will have them for many months or years. New hives may develop as old ones fade. Hives can vary in size from as small as a pencil eraser to as large as a dinner plate, and may join to form even larger swellings.
Hives are produced by blood plasma leaking through tiny gaps between the cell lining small blood vessels in the skin. Histamine is a chemical released from cells in the skin called mast cells; which lie along blood vessels. Allergic reactions, chemicals in foods, or medications may cause hives; sometimes it is impossible to find out the cause. When hives form around the eyes, lips, or genitals, the tissue may swell excessively. Although frightening, the swelling usually goes away in less than 24 hours. Severe cases of hives may cause difficulty in breathing or swallowing and emergency room care is required.
Acute Urticaria
Acute urticaria lasts less than six weeks. An underlying cause can be frequently identified and eliminated. The most common causes for acute urticaria are foods, drugs, or infections. Insect bites, internal diseases, pressure, cold, or sunlight also may be responsible.
Foods
The most common foods that cause urticaria are: nuts, chocolate, shellfish, tomatoes, eggs, berries, and milk. Fresh foods cause hives more often than cooked foods. Food additives and preservatives may also cause hives.
Hives may appear within minutes to several hours after eating, depending upon the site within the digestive tract where the food is absorbed.
Drugs
Almost any medication -- prescription or over-the-counter -- can cause hives. Antibiotics, pain medications, sedatives, tranquilizers, diuretics (water pills), diet supplements, antacids, arthritis medication, vitamins, herbal supplements, eye and eardrops, laxatives, vaginal douches, or any other non-prescription item can be a potential cause of urticaria. It is important to inform the dermatologist of ALL prescription and over-the-counter medications being used to help find the cause of the hives.
Infections
Many infections can cause urticaria. Viral upper-respiratory tract infections (colds) are a comon cause in children. Other viruses, including hepatitis and a number of bacterial and fungal infections, may cause urticaria.
Chronic Urticaria
Chronic urticaria lasts more than six weeks. The cause of chronic urticaria is more difficult to identify and is found only in a small percentage of patients. The dermatologist reviews a patient's medical history, asks extensive questions, and conducts a thorough physical examination. Testing, such as blood work or a biopsy, may be necessary.
Physical Urticarias
Physical urticaria may be caused by sunlight, heat, cold, water, pressure, vibration, or exercise. Solar urticaria forms within minutes of sun exposure and typically fades within one to two hours. Cold urticaria appears when the skin is warmed after exposure to cold. Urticaria, which forms in response to the cold or the water when swimming, for example, can produce wheezing, flushing, generalized hives, and fainting.
Dermatographic Urticaria (Dermatographiulesm)
Dermatographic urticaria forms after firmly stroking or scratching the skin, and can often occur with other forms of urticaria. It affects about five percent of the population. Most people with this condition are otherwise healthy. Dermatographism may last for months or even years.
Treatment
The best treatment for urticaria is to find and eliminate the cause whenever possible. Antihistamines are prescribed to provide relief and work best if taken on a regular schedule to prevent hives from forming. There are many antihistamines available. No one antihistamine works for everyone. The dermatologist may use combinations to control the urticaria. In severe cases, an injection of epinephrine (adrenalin) may be needed. Cortisone may also bring dramatic relief, but its use must be limited to short periods of time.
Subcission Scar Treatment
Subcission is a treatment used to correct a type of scar called a valley scar. A valley scar simply means there is a defect in the volume of the skin at the site of the scar. The goal of subcission is to improve this decreased volume. This then allows a depressed scar to regain its smooth appearance. This treatment may be combined with other scar treatments to yield the best cosmetic results.
Rosacea
Rosacea is a common skin disease that causes redness, papules, and swelling on the face. Often referred to as adult acne, rosacea frequently begins as a tendency to flush or blush easily. It may progress to persistent redness in the center of the face that may gradually involve the cheeks, forehead, chin, and nose. The eyes, ears, chest, and back may also be involved. With time, small blood vessels and tiny pimples begin to appear on and around the reddened area; however, unlike acne, there are no blackheads.
When rosacea first develops, the redness may come and go. Some people may flush or blush and never form pustules or papules. Small dilated vessels may also be present. However, when the skin doesn't return to its normal color, and when other symptoms such as pimples and enlarged blood vessels become visible, it's best to seek advice from a board-certified dermatologist. The condition may last for years, rarely reverse itself, and can become worse without treatment.
How to Recognize Rosacea
Small red bumps, some of which may contain pus, appear on the face. These may be accompanied by persistent redness and the development of many tiny blood vessels on the surface of the skin.
In more advanced cases, a condition called rhinophyma may develop. The oil glands enlarge causing a bulbous, red nose, and puffy cheeks. Thick bumps may develop on the lower half of the nose and nearby cheeks. Rhinophyma occurs more commonly in men.
Who is at Risk for Rosacea?
Anyone can get Rosacea. It is more common in fair skinned adults between the ages of 30 and 50. Since it may be associated with menopause, women are affected more often than men and may likely have an extreme sensitivity to cosmetics. In people of color, studies show that early symptoms can often be missed and may be under diagnosed because dark skin can mask facial redness. Few children get rosacea, but it is worth considering if the signs and symptoms are there.
Tips for Rosacea Patients
Avoid triggers, including hot drinks, spicy foods, caffeine and alcoholic beverages that make the face red or flushed. It's important to note that although alcohol may worsen rosacea, the condition may be just as severe in someone who doesn't drink at all; thus rosacea has been unfairly linked to alcoholism.
Practice good sun protection. Seek shade when possible and limit exposure to sunlight, wear hats and use broad spectrum sunscreens with SPF of 15 or higher; reapply every 2 hours.
Avoid extreme hot and cold temperatures which may exacerbate the symptoms of Rosacea. Exercise in a cool environment. Do not overheat.
Avoid rubbing, scrubbing or massaging the face.
An occasional embarrassment or a tense moment also may trigger flushing.
Avoid cosmetics and facial products that contain alcohol. Use hair sprays properly, avoiding contact with facial skin.
Keep a diary of flushing episodes and note associated foods, products, activities, medications or other triggering factors.
Treatment
Many people with Rosacea are unfamiliar with it and do not recognize it in its early stages. Identifying the disease is the first step to controlling it. Self-diagnosis and treatment are not recommended since some over-the-counter skin products may make the problem worse.
Dermatologists often recommend a combination of treatments tailored to the individual patient. These treatments can stop the progress of rosacea and sometimes reverse it.
Creams, lotions, foams, washes, gels, and pads that contain various topical antibiotics, metronidazole, sulfcetimide, benzoyl peroxide, and retinoids may be prescribed. A slight improvement can be seen in the first three to four weeks of use. Greater improvement is usually noticed in two months.
Oral antibiotics tend to produce faster results than topical medications. Cortisone creams may reduce the redness of rosacea; however, they should not be used for longer than two weeks since they can cause thinning of the skin and flare-ups upon discontinuation. It is best to use these creams only under the direction of a dermatologist.
Cosmetics may be helpful. Green tinted makeup may mask the redness.
HydraFacial MD® treats rosacea by gently exfoliating the uppermost layer of skin and extracting impurities and dead skin cells through a patented vortex suction method. Then, it infuses a calming serum packed with antioxidants, peptides and hyaluronic acid. Maintenance treatments are recommended on a monthly basis or as needed.
Relief From Rosacea With V-Beam Laser Therapy. V-Beam laser is a pulse-dye laser that delivers short bursts of light to the treatment area. The light beam targets and coagulates broken and damaged blood vessels and vascular lesions so they may be naturally reabsorbed by your body during the healing process.
For rhinophyma, surgery is usually the main treatment to: Reshape a disfigured nose, remove tissue overgrowth & minimize enlarged blood vessels.
The key to successful management of Rosacea is early diagnosis and treatment. Rosacea can be treated and controlled if medical advice is sought in the early stages. When left untreated, Rosacea will get worse and may be more difficult to treat.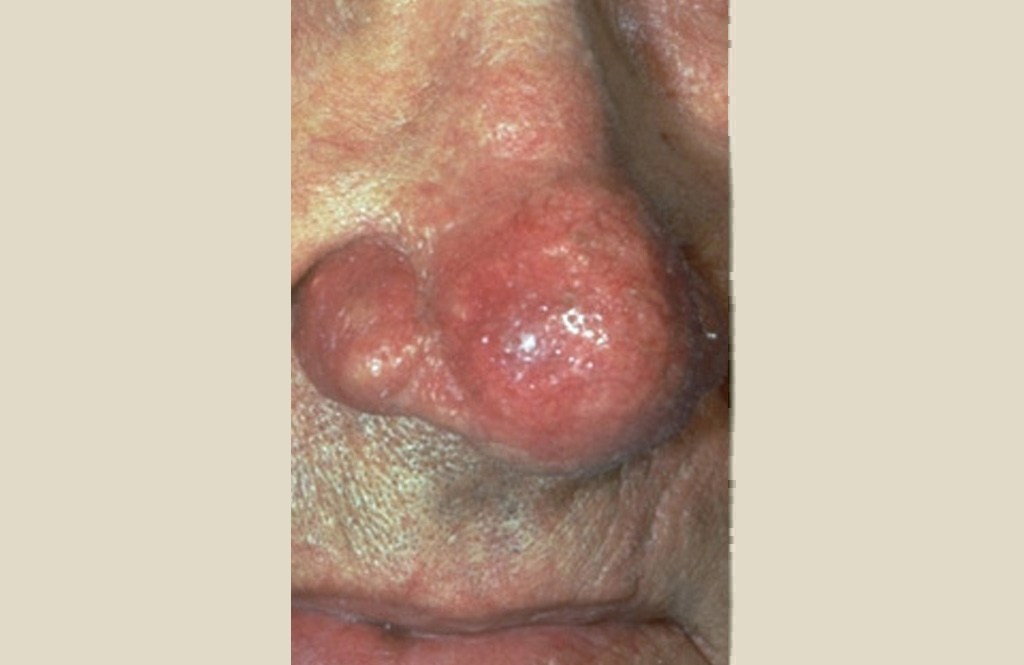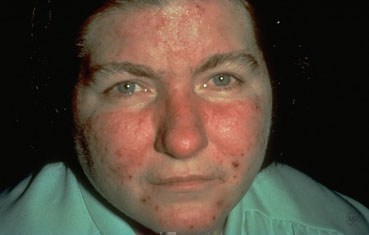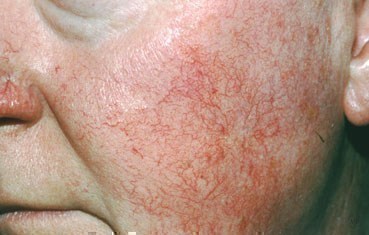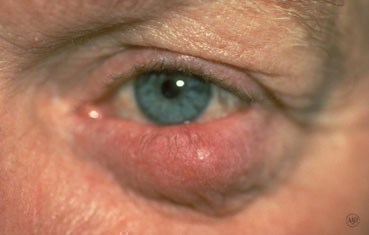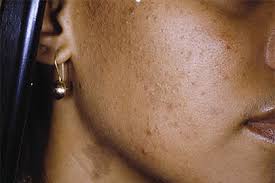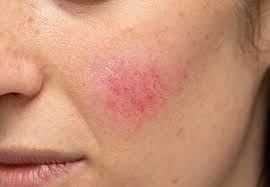 Melanoma
Melanoma is the most common type of cancer for young adults 25 to 29 years old, and the second most common type for adolescents and young adults 15-29 years old. Melanoma is a cancer of the pigment producing cells in the skin, known as melanocytes. Cancer is a condition in which one type of cell grows without limit in a disorganized fashion, disrupting and replacing normal tissues and their functions, much like weeds overgrowing a garden. Normal melanocytes reside in the outer layer of the skin and produce a brown pigment called melanin, which is responsible for skin color. Melanoma occurs when melanocytes become cancerous, and then grow and invade other tissues.
Melanoma begins on the surface of the skin where it is easy to see and treat. If given time to grow, melanoma can grow down into the skin, ultimately reaching the blood and lymphatic vessels, and spread around the body (metastasize), causing life-threatening illness. It is curable when detected early, but can be fatal if allowed to progress and spread. The goal is to detect melanoma early when it is still on the surface of the skin.
What causes it?
It is not certain how all cases of melanoma develop. Understanding what causes melanoma and whether you're at high risk of developing the disease can help you prevent it or detect it early when it is easiest to treat and cure.
However, it is clear that excessive sun exposure, especially severe blistering sunburns early in life, can promote melanoma development. There is evidence that ultraviolet radiation used in indoor tanning equipment may cause melanoma. The risk for developing melanoma may also be inherited.
Who gets it?
Anyone can get melanoma, but fair-skinned sun-sensitive people are at a higher risk. Since utraviolet radiation from the sun is a major culprit, people who tan poorly, or burn easily are at the greatest risk.
In addition to excessive sun exposure throughout life, people with many moles are at an increased risk to develop melanoma. The average person has around 30 moles, and most are without significance; however, people with more than 50 moles are at a greater risk. In addition to the number of moles, some people have moles that are unusual and irregular looking. These moles (nevi) are known as dysplastic or atypical moles. People with atypical moles are at increased risk of developing melanoma. Melanoma also runs in families. If a relative such as a parent, aunt or uncle had melanoma, other blood relatives are at an increased risk for melanoma.
The following factors help to identify those at risk for melanoma:
Fair skin
History of sunburns
Unprotected or excessive UV exposure from the sun or indoor tanning
More than 50 moles
Atypical moles
Genetics plays a role in who has a higher risk of being diagnosed with melanoma. One in every 10 patients has a close family member who also has had the disease.
Anyone can develop melanoma, but people with one or more of the risk factors are more likely to do so. Annual skin examinations by a board-certified dermatologist can truly be life saving.
To help you find melanoma and other skin cancers early, dermatologists encourage everyone to learn the following:
The ABCDEs of melanoma
Learn to recognize a possible melanoma by learning these 5 warning signs.
How to perform a skin self-exam
Watch this short video to learn how to check your own skin for signs of melanoma and other skin cancers.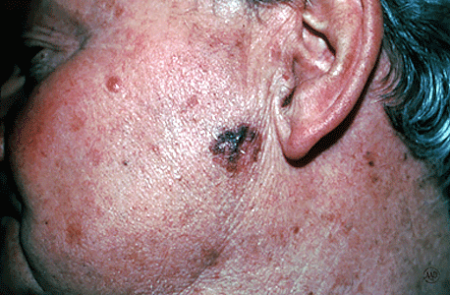 ​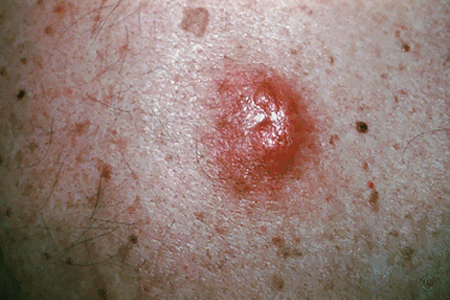 ​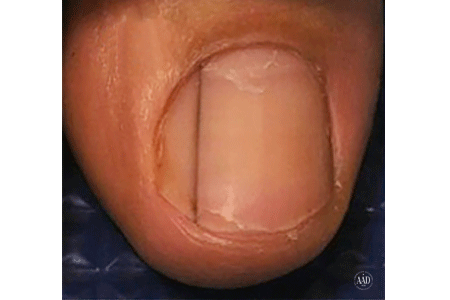 ​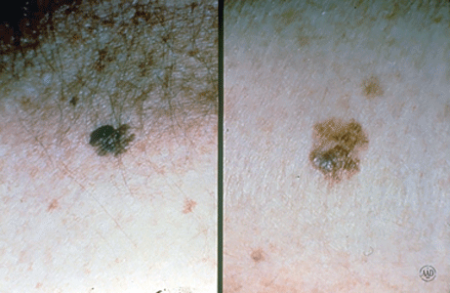 ​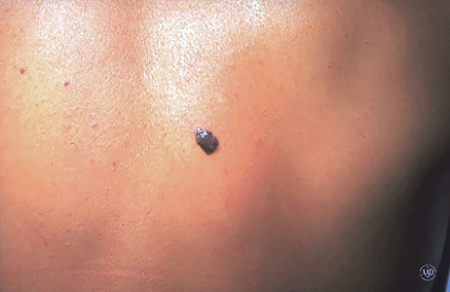 ​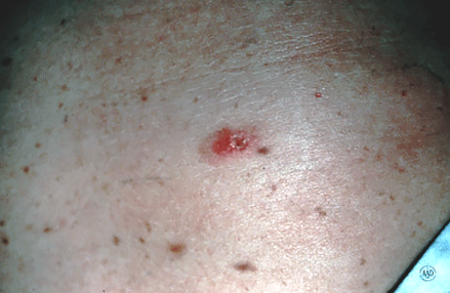 ​
Hyperhidrosis
An estimated 2-3% of Americans suffer from excessive sweating of the underarms, or of the palms and soles of the feet. Sweating is embarrassing, it stains clothes, ruins romance and complicates business and social interactions. Severe cases can have serious practical consequences as well, making it hard for people who suffer from it to hold a pen, grip a car steering wheel or shake hands.
If left untreated these problems may continue throughout life. We can help!
Once other medical conditions have been ruled out, we offer a range of exciting treatment options – from prescription products to in-office treatments – to manage this condition. Dr. Robinson has many happy patients who were treated for Hyperhidrosis.
What Causes Hyperhidrosis?
Although neurologic, endocrine, infectious, and other systemic diseases can sometimes cause hyperhidrosis, most cases occur in people who are otherwise healthy. Heat and emotions may trigger hyperhidrosis in some, but many who suffer from hyperhidrosis sweat nearly all their waking hours, regardless of their mood or the weather.
What is the Treatment for Hyperhidrosis?
Through a systematic evaluation of causes and triggers of hyperhidrosis, followed by a judicious, stepwise approach to treatment, many people with this annoying disorder can sometimes achieve good results and improved quality of life.
The approach to treating excessive sweating generally proceeds as follows:
Over-the-counter antiperspirants containing a low dose of metal salt (usually aluminum) are usually tried first because they are readily available. Antiperspirants containing aluminum chloride (for example Certain Dri) may be more effective when other antiperspirants have failed.
Prescription strength antiperspirants, when regular antiperspirants fail to treat excessive sweating, we recommend aluminum chloride hexahydrate (Drysol), a prescription strength version of aluminum chloride.
Iontophoresis: Its exact mechanism of action is still unclear, although it probably works by temporarily blocking the sweat duct. The procedure uses water to conduct an electric current to the skin a few times each week, for about 10-20 minutes per session, followed by a maintenance program of treatments at 1- to 3-week intervals, depending on the patient's response.
Oral medications: Anticholinergics can reduce sweating, but are not commonly used because in order to work they often produce side effects like dry mouth.
BOTOX (botulinum toxin)-A, has been approved in the U.S. by the FDA for treating excessive axillary (underarm) sweating. Currently, the FDA has not approved Botox for sweating of the palms and soles of the feet, though some dermatoologists are administering it as an off-label use, reportedly with success. Palm injections cause more pain, requiring nerve blocks to numb the hands in order to make the injections more comfortable. Skilled practitioners have used Botox for the head and face, as well.
miraDry: Approved in 2011 by the FDA for excessive underarm sweating. It is a non-invasive treatment that uses electromagnetic energy targeting heat on sweat lands, destroying them. Local anesthesia is used and the skin is cooled during this hour-long procedure. It can be repeated 2-3 times for optimal effect.
Lasers: Lasers can target and focus a narrow beam of heat and kill the underarm sweat glands.
Surgery: A procedure called thoracic sympathectomy may be considered as a last resort.